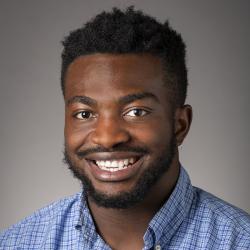 Osasenaga Kelly Aghayere is afirst-year MA studend at the Jackson Institute for Global Affiars. He graduated from Duke University in 2017 with a Bachelor of Arts in public policy and Spanish. Osasenaga was born in Benin City, Nigeria and immigrated to Reston, Virginia at the age of 10. Following his graduation from Duke, Osasenaga served as a college adviser through the College Advising Corps at Charles E. Jordan High School in Durham, North Carolina. At Yale, Osasenaga plans to study ways of achieving equitable and sustainable development, especially in the African region.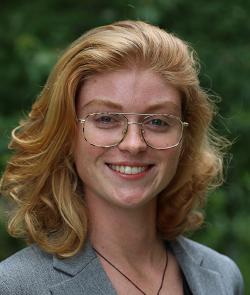 Jenna Davis is a Masters of Environmental Science candidate through the Yale School of Forestry and Environmental Studies. Her interests focus on examining the perceptions and measured effects of climate change among subsistence farmers in sub-Saharan Africa and how this knowledge influences their adoption of climate smart agricultural practices and livelihood strategies. Prior to coming to Yale, she served in the Peace Corps working as a food security specialist under the Zambian Ministry of Forestry from 2016-2018. Her work focused on improving food security at the village level through the promotion of conservation agriculture, agroforestry, and income generating activities to community members. She holds a B.S in Environmental Science and a B.A. in Sustainability Studies from the University of Florida.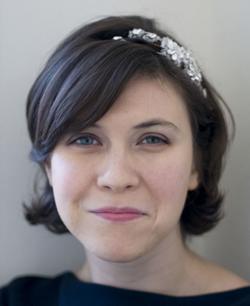 Sophia Dawkins is a doctoral student in Political Science . She researches how peace processes shape political violence in civil wars, with a focus on South Sudan and the Horn of Africa. Sophia has been engaged with Sudan and South Sudan since 2010, when she deployed as a humanitarian worker in the contested Abyei Area. She then worked for four years in peace mediation and humanitarian negotiations with Conflict Dynamics International. Sophia has conducted projects for the World Bank, African Union, Carnegie Corporation, US State Department, Mercy Corps and World Peace Foundation. Her work on peace processes has featured in the Washington Post, and won prizes from the Diplomatic Courier and International Studies Association. Sophia holds an M.A. from the Fletcher School at Tufts University and a B.A. from the University of Oxford.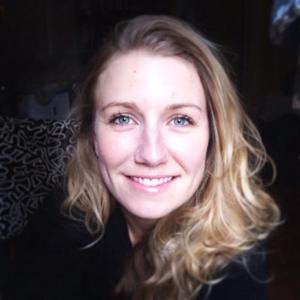 Jillian Foster is pursuing doctoral study in Political Science. Her research sits at the nexus of political violence, behavior, and gender. More specifically, she is interested in the gendered nature of decision-making and political behavior related to violent social movements. Prior to Yale, Jillian spent nearly a decade leading monitoring and evaluation (M&E) and research projects with a special focus on peacebuilding, violent extremism, humanitarian assistance, and gender-based violence in fragile states.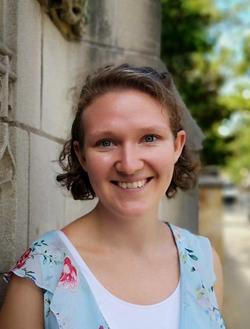 Helena Funk is a current M.A. candidate in African Studies (Leipzig University, Germany), and an Exchange Scholar at the Yale Center for Cultural Sociology (CCS) in 2018/19.

Her planned M.A. thesis examines diverse language use and its cultural implications in the middle-class of Nairobi, Kenya. She will conduct field research in Nairobi, analyzing language use and identity within the growing Kenyan middle-class. Her research interests cover Cultural Sociology, Analysis of Social Structures, Urban Studies, Sociolinguistics and Swahili Studies.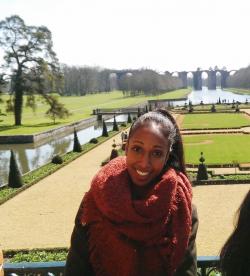 Jacqueline Georgis is a fourth-year doctoral student of ethnomusicology within the Department of Music. Her work explores ideas of cultural hybridity and transnational exchange within the Lusophone-Atlantic. She is particularly interested in researching these themes through the lens of contemporary Angolan and Cape Verdean inspired electronic dance music in Lisbon, Portugal, asking how these music genres challenge current neo-colonial sociocultural and political configurations of the Lusophone world. Jacqueline will be heading to Lisbon in Spring 2019 to conduct dissertation field research. Before coming to Yale, Jacqueline received her B.M. in cello performance from the School of Music, Ithaca College (2013), and continued cello performance study at the École Normale de Musique de Paris, Alfred Cortot (2013-2015) in Paris, France.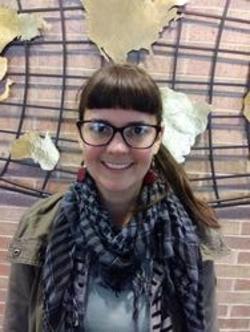 Liezl Gevers is currently a second year PhD student in African History.  She received her BA and Honours degrees from the University of KwaZulu Natal and her MA from the University of the Western Cape. Her previous research focused on an aspect of the history of social welfare in South Africa. Currently, her research interests include political activism, political consciousness, identity, intellectual histories of past futures, race and gender in twentieth century South Africa. Before embarking on her career in academia, Liezl worked in the Adult Education and Training sector in South Africa.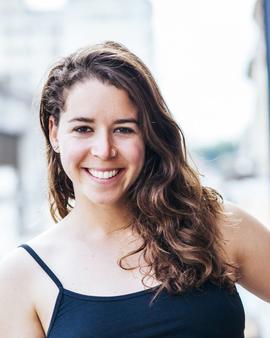 Sally Goodman is a Master of Environmental Science student at the School of Forestry and Environmental Studies (FES). She holds a BS in Environmental Engineering from Princeton, where she studied groundwater and smallholder agriculture in Kenya. Before coming to Yale, she worked as a Princeton in Africa Fellow at Mpala Research Centre, a field station in Laikipia, Kenya, and on international development projects in Washington, DC. At FES, Sally is pursuing research on water demand from agriculture and water availability for wildlife in Kenya, and is generally interested in the role of water in ecosystems.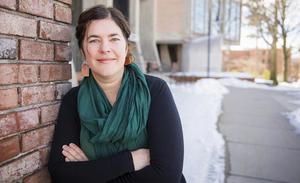 Leslie Gross-Wyrtzen is a doctoral candidate in Geography at Clark University and a National Science Foundation Graduate Research Fellow. She is also a visiting graduate affiliate at Yale in Ethnicity, Race and Migration. Her work explores how European border enforcement in Morocco impacts West and Central African migrants' daily lives and mobilities. She focuses on the relationship between racialization and informality in containing migrants beyond European territory, and the sorts of counter-projects migrants mobilize against the border. As a 2017-2018 Fulbright-Hays Fellow, she conducted 11 months of ethnographic research among migrant communities in two central Morocco cities. A native of south Texas, she has been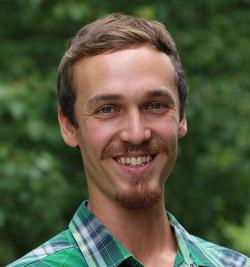 Colin Korst is a 2020 Master of Environmental Science student at the Yale School of Forestry and Environmental Studies.  Previously, he served as an agricultural extension agent with Peace Corps in Cameroon and more recently worked on agricultural innovation with a local  NGO in Guinea-Conakry. Colin also has experience as a farmhand on a commercial vegetable farm in Illinois and currently is an agroforester-in-residence at the Yale Farm. He is collaborating with smallholder farmers in Ghana to explore how agrarian futures are contested and negotiated in the face of state and corporate efforts to modernize agricultural practice.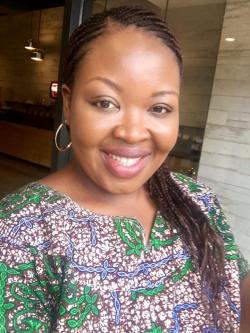 Marius Kothor is a PhD student in the Department of History with broad research interests in 20th Century African History, Gender, and Black Internationalism. Her research focuses specifically on women's political and economic contributions to Togo's independence movement, and how Togo's anti-colonial struggle informed African American discourses on African decolonization movements. Marius employs a variety of sources including; archival documents, oral histories, newspapers, photographs, and textiles in her research.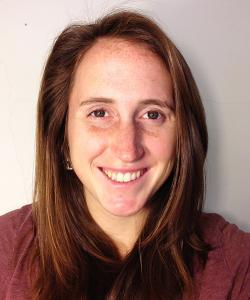 Keri Lambert is a doctoral candidate in African history specializing in the social, environmental, and economic history of the twentieth century. Her research looks at Ghana's rubber industry from 1880 to the present. As a 2013-14 Thomas J. Watson Fellow and a 2016-17 SSRC-Mellon International Dissertation Research Fellow she conducted archival, oral historical, and participant observation research in Ghana, the United States, and the United Kingdom on this topic. In my dissertation, I use rubber forests, farms, and factories as lenses to examine how people in the colonial Gold Coast and Ghana — especially farmers and workers, but also union reps, politicians, traders, and student activists — grappled with the possibilities and perils of producing for the world market. For more information, please visit her personal website at kerilambert.net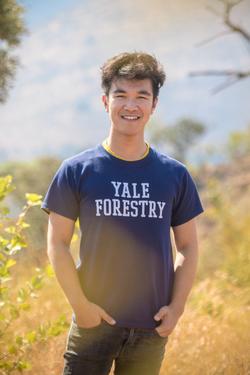 Andy Lee is a 2019 Master of Environmental Science candidate at the Yale School of Forestry & Environmental Studies, with a focus on wildlife conservation and conservation policy. His thesis research focuses on understanding the social and decision processes of large carnivore reintroductions in South Africa protected area to promote conservation. His previous experience in wildlife research include studying African elephants in South Africa, snow leopard in the Tibetan Himalayas region, as well as wildlife trafficking in Asia. Before coming to Yale, he worked in the Cetacean Ecology Lab in the University of Hong Kong as a research assistant to study the population structure, socio-behavioural ecology and spatial movement of the endangered population of Indo-pacific humpback dolphins in the coastal city. He holds a B.Sc. in Ecology & Biodiversity from the University of Hong Kong.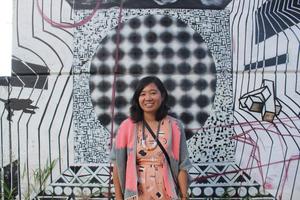 Denise Lim is a PhD student in Sociology. She has conducted evaluative research on NGOs that work on HIV/AIDS preventative education and outreach in the United States, Malawi, and South Africa. For her master's thesis, she examined how African literature is taught and defined in South African universities. After serving as a graduate curatorial intern for the Yale University Art Gallery's "Contemporary Art/South Africa" exhibition (May – September 2014), Denise has since collaborated with Namibian artist Nicola Brandt and published an article that sociologically analyzes her multimedia installation series entitled, "The Earth Inside", which engages with Germany's colonial history and genocide against the Herero and Nama peoples of Namibia. Denise has also collaborated with the Guns and Rain Gallery in Johannesburg to publish a general press article on South African artist Sabelo Mlangeni's "Umlindelo wamaKholwa" exhibition which nuances the spiritual practices of the Zionist Christian communities of South Africa. She is currently working on developing an experimental digital ethnography that documents the social, material, and visual life of Johannesburg's tallest residential tower, Ponte City, for her doctoral dissertation.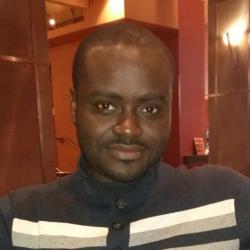 Constantine  Manda is a PhD candidate in the Department of Political Science. Prior to Yale he was the Senior Research Analyst at Twaweza where he worked on randomized controlled trials aimed at improving education outcomes in Tanzania. Constantine has consulted with various organizations including REPOA, Tanzania's Financial Sector Deepening Trust (FSDT) and the World Bank.  He  periodically teaches impact evaluation, political economy and development economics at the University of Dar es Salaam's Economics Department, the Economic and Social Research Foundation (ESRF), the African School of Economics, and Strathmore Business School. Constantine is a World Economic Forum Global Shaper with the Dar es Salaam Hub (since 2013). He holds a Master of Public Policy degree (2010) from the University of Chicago, and a Bachelor of Arts in Economics degree (2009) from Xavier University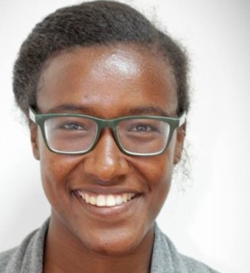 Yasmina Martin is a first-year doctoral student in History with interests in twentieth century South African political movements, political exile, and gender and nationalism. Prior to Yale, she graduated with a B.A in Black Studies and French from Amherst College in 2014, completed a Fulbright student project on legacies of queer activism in Johannesburg, and worked in education in Boston and New York.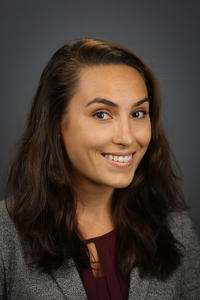 Hilary Matfess is a PhD student in Political Science and the author of Women and the War on Boko Haram: Wives, Weapons, Witnesses. Her work focuses on gender and conflict in sub-Saharan Africa.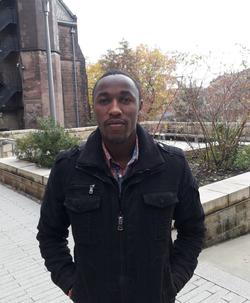 James Ndun'gu is a Masters of Environmental Management candidate at the Yale School of Forestry and Environmental Studies. Prior to joining Yale, James worked with NGOs and community organizations in Kenya in the areas of rural development, environmental conservation, education and research. At Yale, his research focuses on energy access and financing in developing countries, international development and the linkages between environmental resource use and sustainable development. James holds a bachelor's degree in Chemistry from the Technical University of Kenya. He is also a director at the Rays of Hope Initiative, a youth-led community-based organization in central Kenya that seeks to improve education access, create opportunities for young people and empower rural communities.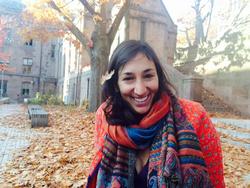 Emily Sigman is a National Science Foundation Graduate Research Fellow pursuing dual degrees at the Yale School of Forestry and the Jackson Institute for Global Affairs.  Her research explores agroforestry, silvopasture, and other multifunctional landscaping practices as pathways towards the flourishing of mutually embedded socio-ecosystems.  Emily is an affiliate of the Consultative Group on International Agriculture Research (CGIAR), and has worked with the World Agroforestry Centre (ICRAF) on projects in Burkina Faso and Ethiopia focused on integrated watershed management.  She is also a Fox International Fellow at the University of Ghana, where she is working as part of the Climate Smart Cocoa Systems for Ghana (CLIMCOCOA) research team.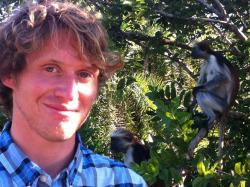 Justin Tyvoll is a second-year MA student at the Jackson Institute for Global Affairs, where he focuses on international security and sub-Saharan Africa.  Most recently, his studies have taken him to Nigeria, where he spent the past summer researching Boko Haram, Islamic State – West Africa, and transitional justice in the Lake Chad Basin. Justin graduated from Cornell University in 2013 with a BA in History and Philosophy. While at Cornell, Justin spent a summer in northern Uganda, where he designed and conducted a participatory rural appraisal survey of a former IDP camp. He also interned with the Enough Project in Washington, D.C., researching conflicts and human rights issues in Africa, helping draft memos for Congress and the NGO community, and developing maps of conflict areas. After graduation, Justin returned to East Africa to serve as a Health Extension Volunteer in the Peace Corps in Tanzania, living and working with pastoralists on the semi-arid Maasai Steppe.  After returning from Tanzania, Justin worked as an analyst at the U.S. Department of Homeland Security's Asylum Division, helping asylum-seekers pursue political protection and legal residence in the United States.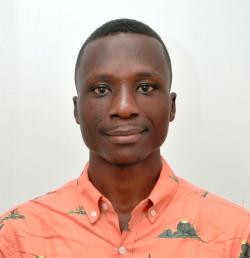 Tony Yeboah is a PhD student in History. He specializes in architectural/urban history with a comparative interest in West African cities, particular emphasis on Kumasi, Ghana's second most populated city. Tony interrogates the transformation of West African cities in relation to the built environments as well as the policies and interventions that shaped and modified the urban landscape and local cultures following the imposition of European colonial rule in late nineteenth century until the twentieth century when colonial rule was dismantled. He hopes to contribute to the restoration of this aspect of West African past which is increasingly recognized for its relevance within the historical narratives of the region. Tony is also interested in applied history through an innovative way of reconstructing the past from "the below" and making history relevant and usable to people.