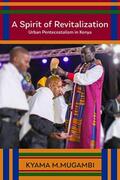 Perhaps more than anywhere else in the world, Africa has generated unique expressions of Christianity that have, in their rapid development, overtaken older forms of Christianity represented by historic missionary efforts. Similarly, African Christianity has largely displayed its rootedness in its social and cultural context. The story of Pentecostal movements in urban Kenya captures both remarkable trends. Individual accounts of churches and their leaders shed light on rich and diverse commonalities among generations of Kenya's Christian communities.  
Exploring the movements' religious visions in urban Africa,  A Spirit of Revitalization: Urban Pentecostalism in Kenya highlights antecedent movements set against their historical, social, economic, and political contexts. Kyama Mugambi examines how, in their translation of the gospel, innovative leaders synthesized new expressions of faith from elements of their historical and contemporary contexts. The sum of their experiences historically charts the remarkable journey of innovation, curation, and revision that attends to the process of translation and conversion in Christian history.
While outlining a century of successive renewal movements in Kenya between 1920 and 2020, the study also delves into features of recent urban Pentecostal churches. Readers will find a thorough historical treatment of themes such as church structures, corporate vision, Christian formation, and theological education. The longitudinal and comparative analysis shows how these Pentecostal approaches to orality, kinship, and integrated spirituality inform Kenyans' reimagination of Christianity.