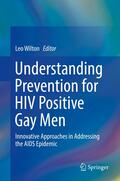 This innovative collection offers a wide-ranging palette of psychological, public health, and sociopolitical approaches toward addressing the multi-level prevention needs of gay men living with HIV and AIDS. This book advances our understanding of comprehensive health care, risk and preventive behaviors, sources of mental distress and resilience, treatment adherence, and the experiences of gay men's communities such as communities of color, youth, faith communities, and the house ball community. Interventions span biomedical, behavioral, structural, and technological approaches toward critical goals, including bolstering the immune system, promoting safer sexual practices, reducing HIV-related stigma and discrimination, and eliminating barriers to care. The emphasis throughout these diverse chapters is on evidence-based, client-centered practice, coordination of care, and inclusive, culturally responsive services.
Included in the coverage:
Comprehensive primary health care for HIV positive gay men

From pathology to resiliency: understanding the mental health of HIV positive gay men

Emerging and innovative prevention strategies for HIV positive gay men

Understanding the developmental and psychosocial needs of HIV positive gay adolescent males

Social networks of HIV positive gay men: their role and importance in HIV prevention

HIV positive gay men, health care, legal rights, and policy issues
Understanding Prevention for HIV Positive Gay Men will interest academics, researchers, prevention experts, practitioners, and policymakers in public health. It will also be important to research organizations, nonprofit organizations, and clinical agencies, as well as graduate programs related to public health, consultation, and advocacy.
Subtitle or Series:
Understanding Prevention for HIV Positive Gay Men: Innovative Approaches in Addressing the AIDS Epidemic