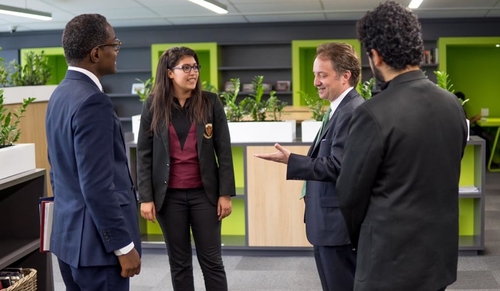 While traveling in Africa over spring break, Pericles Lewis, vice president for global strategy and deputy provost for international affairs, visited the African Leadership Academy (ALA) campus in Johannesburg, South Africa. 
Co-founded in 2004 by Yale alumnus Chris Bradford '00, ALA is a two-year college preparatory school located in Johannesburg. Its core curriculum, based on the Cambridge A Levels, includes components that focus on building leadership and entrepreneurial skills, studying issues relevant to Africa, and encouraging team building and original thinking. The school annually enrolls 120 students, ages 16 to 19, from 45 countries across the continent. ALA's graduates have gone on to attend several prestigious universities including Yale, according to ALA's website. 
This month Lewis visited Ethiopia and Uganda, in addition to South Africa, to meet with numerous Yale partners, alumni, friends and colleagues in support of the Yale Africa Initiative (YAI), an ongoing effort by the university to prioritize and expand upon its collaborations on the continent.
Related