Peter Suwondo researches deworming effectiveness in Ghana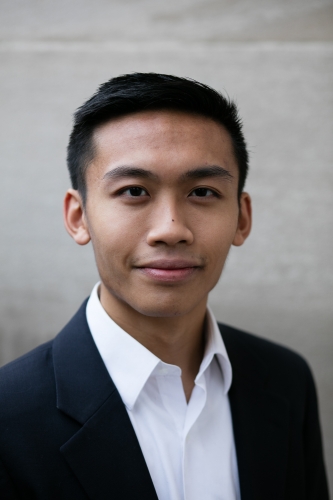 Wednesday, August 2, 2017
In May, Peter Suwondo completed the five-year accelerated Master of Public Health program offered through the Yale School of Public Health. At graduation, he was awarded the Dean's Prize for Outstanding M.P.H. Thesis for his paper Epidemiology of Soil-Transmitted Helminthiases in Kpandai District, Ghana: Community-Level Variation and Novel Predictors of Infection Status. Peter worked with Dr. Michael Cappello, Professor of Pediatrics (Infectious Disease), of Epidemiology (Microbial Diseases) and of Microbial Pathogenesis; Chair of the Council on African Studies at the MacMillan Center; and Co-Director of the Yale Africa Initiative, on the research for his thesis. Marilyn Wilkes, Director of Communications at the MacMillan Center, recently sat down with Peter to talk about his time at Yale and his plans for the future. The following is an edited excerpt from their conversation.
Your research focuses on parasitic intestinal infections like hookworm—what drew you to first study these types of diseases?
I joined Dr. Cappello's group after previously conducting research on food insecurity in Ecuador. I've always been interested in studying health conditions closely associated with poverty, as many of the diseases that primarily affect the poor don't get the attention or funding they deserve. Hookworm, for example, affects more than half a billion people worldwide and causes a huge burden of global disability; at the same time, it hardly ever makes the headlines, since it's a problem most Americans today won't ever have to grapple with. This is one of the reasons why hookworm has become known as a "neglected" tropical disease, or NTD, alongside 17 or so other conditions like leprosy, river blindness, and elephantiasis. I find a lot of motivation in knowing that our work is helping to solve this equity problem.
What is your thesis about and what do you conclude?
My thesis builds on an epidemiological field study I led last summer investigating deworming effectiveness in a small rural district in eastern Ghana. The Cappello research group, in collaboration with partners at the University of Ghana, has been monitoring deworming performance in Ghana over the past decade, and this work has raised concern about potential emerging drug resistance among human hookworms. The goals of my thesis were to characterize hookworm epidemiology and response-to-treatment in an area of the country we hadn't previously studied, allowing our group to make new comparisons across regions and to establish a baseline for future monitoring of hookworm treatment outcomes.
Our analysis uncovered some interesting results. For example, we discovered significant unexpected variation in hookworm burden at the village level, suggesting that, for unclear reasons, ongoing deworming in the study area is having a heterogeneous impact. We also found new evidence to support the idea that nutritional status plays a key role in mediating the success of hookworm drug treatment. We are still performing some genetic analyses to more thoroughly investigate whether markers of drug resistance might be present among hookworms collected as part of the study. However, our findings so far suggest that more monitoring is needed at the local level to accurately assess deworming program impact and to investigate additional epidemiological factors influencing deworming success.
In what ways did the Council on African Studies help your research?
The Council on African Studies is a tremendous resource to the Yale community, bringing together diverse scholars and supporting student research like my own through fellowships, lecture series, and events. Dr. Cappello is chair of the council, and his international research collaborations provided the foundation for my study. In particular, the Yale Partnerships for Global Health program, which Dr. Cappello co-founded in 2006, recently celebrated a decade of international research capacity building and scholarly exchange. It's a great opportunity for a student like me to be able to contribute to this long-running partnership and to be able to learn from some incredible mentors at our partner institutions in Ghana. Moreover, I'm grateful to the Council on African Studies for awards like the Lindsay Fellowship for Research in Africa, which helped fund our study and make the research possible.
What were some of the highlights for you over the past five years at Yale?
Some of my favorite moments have been opportunities to work with and mentor younger classes of students in teaching and advising roles. I really owe a lot to the students and faculty who took me under their wing when I first arrived at Yale, so it's felt great to be able to give back to the community at the other end of my five years. Supporting an amazing group of undergraduates as a freshman counselor (or "FroCo"), for example, was the highlight of my senior year in college. And being able to share my passion for global health as a teaching fellow this past spring was both a challenging and incredibly fun new experience.
Now that you've graduated, what are your plans?
I definitely want to stay involved in global health research and activism. I'm still deciding where I want to land next, but I'm excited for the challenge and hope to continue my education in a few years with further graduate study in medicine and public health.