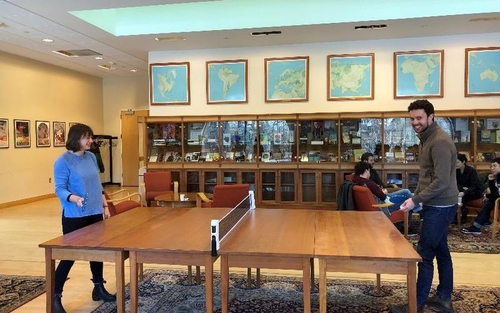 On December 12, the Common Room on the second floor of Luce Hall was filled with the sound of laughter, ping pong balls ringing, and sprinkles pouring as the MacMillan Center enjoyed a respite from the end-of-semester hustle with pizza and holiday cookie decoration.
Holiday cheer was shared by the graduate student affiliates of student networks at the MacMillan Center. The event was organized by all of the councils at the MacMillan Center: East Asian Studies, European Studies, Latin American and Iberian Studies, Middle East Studies, African Studies, Southeast Asian Studies, and South Asian Studies.
Students finished their Abaté pizza lunch by piping icing to their liking on sugar cookies from Katalina's. Some layered their icing generously like the blanket of snow that dusted the MacMillan lawn the night before, while others piped meticulous lines to dress their holiday snowmen.
One graduate student commented, "Once the ping pong table was set up, the room was completely transformed from a common room into a chill hangout space."
We hope this afternoon of relaxation and respite from studying for finals and writing papers will carry graduate students through to a successful end to the fall semester and into break.