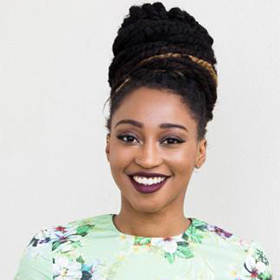 Catherine Labiran, who is graduating this month with a Master's Degree in African Studies, has been selected as the recipient of two Afro-American Cultural Center awards. She will receive the inaugural Award for Outstanding Graduate Research in the African Diaspora. The award recognizes a graduate/professional student whose research advances our understanding of our interconnected histories throughout the African Diaspora.
 
Labiran also will receive the Khalid Lum Award for Outstanding Commitment by a Graduate/Professional Student to the Mission & Legacy of the Afro-American Cultural Center. In honor of Mr. Lum, the House's first full-time director, this award was established in May 2015 and recognizes the efforts of a graduate/professional student who has devoted tremendous leadership to the House and its community. 
Labiran graduated from Emory University in 2016 with a BA in Psychology. She is a published poet who has taught and performed poetry across the United States, the United Kingdom and Africa. She currently works as the Human Rights Advocacy Coordinator at the U.S. Human Rights Network where she supports national membership development and advocacy initiatives with a focus on issues impacting people of African Descent. Catherine is interested in researching the sociopsychological impact of Nigerian postcolonial literature. She is also passionate about conducting archival research to recover work of Nigerian women writers from the 1960s. She is a current recipient of the Foreign Language Fellowship in Yoruba. 
The Afro-American Cultural Center at Yale University (affectionately called "the House") was established in the fall of 1969 after the rise of issues surrounding race and civil unrest at Yale and throughout the New Haven community. Due to the increased number of Black students and the rising social consciousness of the 1960s, Yale students rallied to create a space in which Black students and members of the community could convene for social and political means. 
The original location of the House was 1195 Chapel Street. From its inception, the Afro-American Cultural Center, has always represented the vital and vibrant presence of people of African heritage at Yale as well as those interested in the cultures of the African Diaspora. The House's current location at 211 Park Street provides additional access for members of the New Haven community to participate in a host of cultural events and activities.
Since 1969, the House has nurtured and encouraged generations of Black Yalies to become some of world's leading scholars, activists and professionals.