Botswana and Yale partner to advance sustainable natural resource management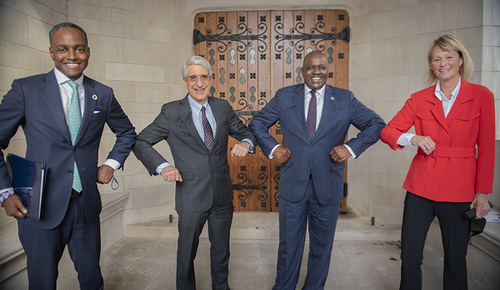 Monday, September 27, 2021
President Mokgweetsi Masisi of the Republic of Botswana visited Yale on September 22 to meet with Yale President Peter Salovey, sign a partnership agreement to advance sustainable natural resource management in collaboration with Yale partners, and deliver a lecture in the Yale African Leaders Forum series. The visit is Masisi's second, after he and First Lady Neo Jane Masisi spent a day on the Yale campus in June 2019 for a series of meetings to begin collaborations with Yale.
The visit began with a meeting with President Salovey, who reiterated his commitment to engage with partners across Africa as part of the Yale Africa Initiative, a university-wide effort announced at his inauguration in 2013. Both leaders reaffirmed their commitment to furthering partnerships that will result in collaborative research, training, and learning exchanges.
Masisi and Salovey were then joined by Yale School of the Environment (YSE) Dean Indy Burke for a signing ceremony at the President's Office. The agreement outlines planned collaborations to implement sustainable and efficient land, water, and sanitation management in both urban and rural Botswana. 
President Salovey remarked, "I am delighted to have President Masisi back on campus to formalize this new partnership agreement between the Republic of Botswana and the Yale School of the Environment, which has been at the forefront of contributing knowledge and solutions to today's most pressing global environmental challenges. By strengthening our strategic bidirectional partnerships, the Yale Africa Initiative is bringing scholarship, teaching, and learning related to Africa into sharper focus. Our collaborations in Botswana are an example of how we are fostering new avenues of research that benefit communities in the United States and across Africa."
~~~
President Masisi and President Salovey sign a partnership agreement to advance sustainable natural resource management.
~~~
"There is an understanding within many African nations that sustainability is critical to protect the health of both people and the natural world," said Burke. "This partnership with Botswana places YSE in a position to not only help find solutions to these critical environmental issues, but can also provide our students with an invaluable learning experience." (For more information on these collaborations visit the YSE website.)
After the signing ceremony, Masisi delivered a lecture in the Yale African Leaders Forum series, titled "Botswana's Vision for a Knowledge Based Economy." The lecture was co-sponsored by the Yale Africa Initiative, the MacMillan Center's Council on African Studies, and the Hakeem & Myma Belo Osagie Fund for the Promotion of Africa. This was followed by a Question & Answer session, moderated by Yale's Director for Africa and the Middle East, Eddie Mandhry (click image below, to view a video recording of the event).
The visit concluded with a reception at which Masisi met with a variety of Yale faculty and students. As collaboration between Yale and Botswana continues to blossom, Mandhry said, "In the next year we will be in close consultation with the leadership of Botswana to explore expansion of the scope of our partnerships to include additional disciplines of mutual interest." 
~~~
To learn more about Yale's partnerships in Africa, visit Yale and World.