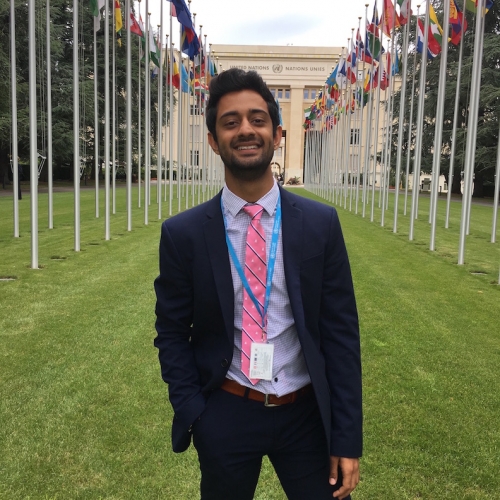 Thanks to funding from the MacMillan Center and the Yale School of Public Health, Azan Virji, a class of 2018 student in the master's degree in public health program, was able to travel to Geneva, Switzerland, to work with the Global Malaria Program at the World Health Organization.
I have just under two weeks left in Geneva and it is hard to believe that my time in this incredible city is almost over. The Peace Capital hosts numerous international organizations and I was fortunate enough to be accepted into the internship program at the World Health Organization (WHO).
I have always had a strong passion for infectious diseases, especially malaria. As a native of Tanzania, I have seen the devastating effects of the disease and the immense loss of life that comes from it. While my background has focused on studying malaria under a microscope, working for the WHO at the Global Malaria Program (GMP) has allowed me to think holistically about the challenges of malaria elimination, to expand my skillset, and to work on larger level policy decisions. I have also had the opportunity to attend talks on new malaria drugs and to witness the culmination of 25 years' worth of malaria data tracking on the African continent over the last 100 years.
Malaria has plagued mankind for thousands of years and estimates of malaria cases globally always fall short of the true number because many go unnoticed or unrecorded. The first step in trying to reduce the burden of malaria and eliminating the disease in countries is accurately knowing how many cases occur and where they occur. In 2015, it was estimated that malaria surveillance systems reported only 19% of all the cases that occur globally (according to World Health Organization, "World Malaria Report 2016: Summary"). Often, surveillance of diseases, especially in low-income countries, are poor due to underlying systemic issues with health information systems.
My project this summer has centered on developing a surveillance assessment tool that can be used to identify strengths and weaknesses in the data recording and reporting system of a country. Once the surveillance system is well established, resources such as bed nets and indoor residual spraying can be adequately distributed to areas with the highest transmission of malaria. Additionally, as a side project, I have also been working on analyzing each malaria-endemic country's strategic plan and comparing it to the WHO malaria elimination guidelines published every year.
In my spare time, I have been able to travel around Switzerland, to visit museums in Geneva, and to explore the city's history and culture. Geneva is one of the most picturesque cities I have ever visited, and you can never go wrong with a stroll along the river. Exploring some of the other UN organizations has given me a sense of how each establishment's work is intertwined and how collaboration is key to alleviating global health problems.
In the next few weeks, I shall complete working on my surveillance assessment tool and present it to the entire GMP surveillance unit. In December, my tool will be implemented in Mozambique (a project I hope to be a part of) as the WHO presses forward with its goal of reducing malaria mortality rates by 40% in 2020 (World Health Organization. "World Malaria Report 2016: Summary"). It is invigorating to be working for the health and well-being of a country not so far from my own and to know that my project will have a direct impact on the country's ability to fight malaria over the next decade. Overall, I am incredibly grateful and humbled to be working at the WHO this summer, all made possible by the help of the MacMillan Center and the Yale School of Public Health.