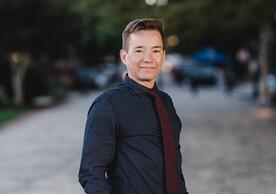 The following interview is part of the Council on African Studies' Alumni Spotlight series featuring graduates from both the Master's and Bachelor's Degrees in African Studies. S. Wilson (Will) Beckham graduated with an MA in AFST in 2009. Will spent several years in Tanzania researching on public health and working in community based prevention and treatment programs, and he is currently a faculty member at the Johns Hopkins School of Public Health.
Could you tell us a little about yourself? How did you end up so passionate about Africa and public health?
Since I was a child, I was drawn to East Africa and admired Jane Goodall's work with chimpanzees. When I had the opportunity to go to Tanzania on a study abroad trip as an undergraduate student, I jumped at the chance. Two weeks after arrival, I developed malaria, and saw the health system and its failures through an especially intense kind of participant observation. This sparked my interest in medical anthropology and public health.
How was your time at Yale? Can you share a few memories that you think might encapsulate your experience?
At Yale, I appreciated the small classes, where the other students and I got plenty of time with professors and fellow students to discuss and debate ideas. I felt I had good relationships with my professors, and that they all knew me. The students and I really got to know each other as well, and I still have friendships with many of them. Being able to take Arabic and advanced Swahili was amazing. 
How did you end up at Yale focusing on African Studies?
I had been traveling to East Africa since I was an undergraduate and wanted to continue to work there, and was also drawn to public health. The opportunity to do the dual MPH/MA program was appealing, and both schools were quite accommodating and supportive, even though I was the first to do that particular combination. I loved that I could pursue a professional degree, but also get the in-depth understanding of African history, anthropology, and language. 
How did your time at Yale and the AFST degree influence your life professionally and or personally?
With my experience from the MA in AFST in addition to my MPH, I was far more competitive when I applied to PhD programs, and was able to pursue my PhD with a scholarship.  I continued my research in Tanzania, and moved there full time during my doctorate, and stayed abroad 5 more years after finishing my PhD. Given my MA, my previous in-country experience, and Swahili language skills, I was able to conduct in-depth research on the life histories and experiences of female sex workers; help conduct a community empowerment-based HIV/AIDS prevention and treatment intervention; and teach public health to study abroad students. I felt the MA heavily informed my approach to public health and enriched the research I conducted for my thesis, dissertation, and over the subsequent years.
Can you tell us about your career after Yale and where you are now?
Right after graduation from Yale in 2009, I enrolled in a PhD program in international public health at Johns Hopkins. After graduating in 2013, I did a post-doctoral fellowship in HIV prevention science, then became a faculty member at Johns Hopkins School of Public Health.  In 2018, I came out as transgender, and could no longer live in Tanzania. I moved to Baltimore, MD to continue my work as a public health researcher, and to focus on LGBTQ populations, including in Africa. Currently, I teach Global Perspectives on LGBTQ Health and Epidemiology of LGBTQ Health, and conduct research on sexual and gender minorities.
What advice would you give either to a current graduate student in AFST or an undergraduate student who is considering focusing on Africa for graduate study?
Besides being endlessly interesting, an African Studies degree is advantageous for a variety of fields, whether it's politics, health, anthropology, development studies, fine arts, or international relations. With growing calls for de-colonizing and social and racial justice, a deep and critical understanding of the history and anthropology of the Western colonization of Africa is important and informative.