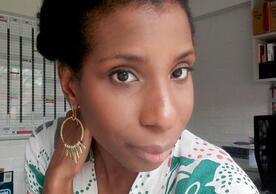 The following interview is part of the Council on African Studies' Alumni Spotlight series featuring graduates from both the Master's and Bachelor's Degrees in African Studies. Nyasha Karimakwenda graduated with an MA in AFST in 2012. Nyasha is a lawyer and PhD legal scholar, and is currently a Lecturer at the University of Cape Town in South Africa.
Could you tell us a little about yourself?
I'm very much a child of the African continent and its Diaspora, having been born in Zimbabwe to Zimbabwean and Grenadian parents, and having spent the latter part of my life mainly in Brooklyn, NY in a Caribbean community, and Washington, DC. Currently, I'm fortunate to call the beautiful city of Cape Town, South Africa, home. I love learning, am an ardent bibliophile, and a resolute Black Feminist.
How was your time at Yale? Can you share a few memories that you think might encapsulate your experience?
My time at Yale was one of growth, expansion and creativity. It was an indulgent period which allowed me to delve into academic areas of study about Africa in a more nuanced and critical way. I found community there amongst Africanist scholars and students, and other students focused on different regions of the world. Highlights for me were the enduring friendships I developed, the mentorship by and engagement with a range of brilliant and passionate scholars, and the ability for me to further carve out my own voice and positioning as a scholar of the African continent. Some of my favorite memories were the Africa nights at MacMillan, where we did African language creative performances; academic and political discussions and debates with members of the African studies cohort, and serving as a teaching assistant for African studies professors.  
How did you end up at Yale focusing on African Studies? 
My time at Yale represented a new and refreshing direction in my trajectory as a scholar and activist. Prior to coming to Yale I had practiced for some years as an attorney representing immigrants in deportation proceedings. I specialized in asylum and Convention Against Torture cases and my work with clients from around the world, including the continent and Diaspora, solidified my curiosity and interest in understanding the historical, political and socio-cultural aspects of violence, and violence against women in particular. I chose to go back to school after making the decision that my heart lay in research and scholarship, and decided that the Masters in African Studies at Yale would provide a perfect environment to explore and foster my academic interests from a multidisciplinary and African-centered perspective. I valued the intimacy of the program (a small cohort of students) and the wide network of instructors and Professors across Departments at Yale. Moreover, the program would allow me to study isiZulu and this was important for me given my interest in South Africa. Finally, the nature of the program layered well with my undergraduate studies at Wellesley College where I double-majored in Africana Studies and Peace and Justice Studies.
How did your time at Yale and the AFST degree influence your life professionally and or personally?
My time at Yale and the AFST degree indelibly and significantly influenced my life. For one, I met incredible scholars who showed me the possibilities of both scholarly and applied research, and who inspired me to look at African history, forms of political and inter-personal violence, language, and dynamics of gender, in distinctive and expansive ways. My study of isiZulu with Sandra Sanneh provided an elevating and enjoyable thread of learning throughout the program. Professors who impacted me, and whose work continues to inspire my own today include Professor Robert Harms, Professor Ato Onoma, Professor Daniel Magaziner and Professor Elisabeth Wood. Following the degree I was awarded the Fox Fellowship to conduct research at the University of Cape Town (UCT). I researched forms of violence against women that intersected with particular customary marriage practices in the country. The relationships that I built at UCT, some of which were due to the Yale network, formed the genesis of my eventual doctoral study at UCT. My multidisciplinary studies at Yale also directly influence how I approach my research today.
Can you tell us about your career after Yale and where you are now?
Following the completion of the Fox Fellowship, I took some years away from academia to work in Grenada (in the corporate arena) and also returned briefly to work as an attorney. My heart remained in South Africa and so I returned in 2016 to undertake a PhD in Public Law with the same network of scholars I had met during the Fox Fellowship from Yale. I subsequently received my doctorate in 2019. Generally, I define myself as a feminist socio-legal scholar and researcher, and the beauty of my life at UCT and in South Africa is that I am able to conduct research with different research units, scholars and sectors in the country and across the continent. Currently my research focuses on violence against women, and also customary marriage practices, violence against sexual and gender-orientation minorities, and histories of gendered violence. I'm also an adjunct lecturer in the Sociology Department at the university. Cape Town is very much my home now.
What advice would you give either to a current graduate student in AFST or an undergraduate student who is considering focusing on Africa as an undergrad or for graduate study?
My first piece of advice would be to definitely pursue a focus on Africa, whether for undergrad or at the Masters level. It is an area of the world that is important, grossly misunderstood in many ways, and in which there is considerable research to be done from an African-centered perspective. The field of African studies is also very versatile. Not only is it a rich area of study from an academic standpoint, but there are myriad other ways in which African studies is valuable. Members of the African Studies cohort have gone into public health, medicine, law, the arts, and international relations. Essentially you can make the degree your own and personalize your course of study and choose the disciplines which overlap with African Studies that you are most interested in. I chose history. Also, Yale provides much support for research on the continent during the summer months, and this is an incredible opportunity as well. For my thesis research I spent the summer months in Cape Town undertaking archival and empirical research on violence against women during the last years of the anti-Apartheid struggle in South Africa. Also know that it's okay to change direction during the degree, or to realize that what you want for your career is different to what you thought at the beginning of the African Studies journey. No matter what direction you take, it will be enriching and you will be part of a supportive and dynamic globally-dispersed African studies community.