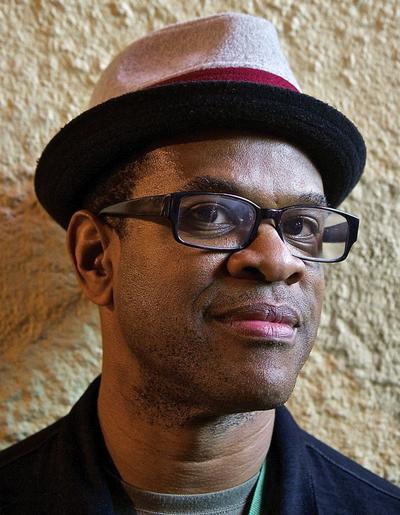 Thomas Allen Harris is a filmmaker and artist whose work across film, video, photography, and performance illuminates the human condition and the search for identity, family, and spirituality. Graduate of Harvard College and the Whitney Independent Study Program, member of the Academy of Motion Pictures Arts and Sciences, and published writer/curator, Harris lectures widely on the use of media as a tool for social change. He lectures and teaches on media arts, visual literacy, and personal archiving at such institutions as Yale, Dartmouth, University of California, and many others.
His deeply personal films – VINTAGE- Families of Value (1995), É Minha Cara/That's My Face (2001), and The Twelve Disciples of Nelson Mandela (2005), have received critical acclaim at international film festivals such as Sundance, Berlin, Toronto, FESPACO, Outfest, Flaherty, and Cape Town. His most recent feature film, Through a Lens Darkly: Black Photographers and the Emergence of a People (2014), which looks at the ways photographic representations serve as tools of representation and self-representation through history, was nominated for both an Emmy and Peabody, and won over 7 international awards including the 2015 NAACP Image Award for Outstanding Documentary Film. His latest short film, About Face: The Evolution of a Black Producer (2017) had its premiere on World AIDS Day at the Whitney Museum of American Art and over 100 institutions worldwide as part of Visual AIDS' 28th annual Day With(out) Art.
In 2009, Harris founded Digital Diaspora Family Reunion, LLC (DDFR) a social engaged transmedia project that has incorporated community organizing, performance, virtual gathering spaces, and storytelling into over 45 unique audio-visual events in over 30 cities. With this project, Harris has toured nationally and internationally, most recently as a Montgomery Fellow at Dartmouth College and at the Yale University Afro American Cultural Center, to invite individuals to explore and share the rich and revealing narratives found within their family photo albums. To date, DDFR has brought over 3000 people together in live events and gathered in excess of 30,000 images, sharing content through social media, television, articles, newspapers, and radio to receive over 70 million impressions worldwide. Harris is bringing DDFR to national TV with Family Pictures USA.
His work has been supported by the Ford Foundation, National Endowment for the Arts, Andy Warhol Foundation for the Visual Arts, Sundance Institute, Tribeca Film Institute, The Fledgling Fund, Rockefeller Foundation, Corporation for Public Broadcasting, Nathan Cummings Foundation, New York State Council on the Arts, Creative Time Inc., and the Banff Centre. Born in the Bronx and raised partly in Dar Es Salaam, Tanzania, Harris currently lives in Warwick, New York with his life and producing partner Don Perry.