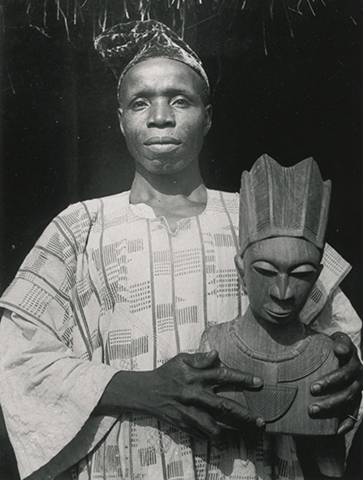 "Bamigboye, Nigeria's Tour-de-Force Sculptor, Claims His Fame in the World
NEW HAVEN, Conn. — There's a mountain range rising in the middle of Yale University Art Gallery, with populations of cliff dwellers circling its heights. Among the inhabitants are stoical farmers, gun-toting soldiers, singers and drummers, mothers with babies, and kids waving flags. Equestrian beauties, male and female, loom large. Leopards and antelopes roam the scene. Carved in wood, it's a dizzying panorama, fantastic but realistic And every detail, in many cases, is the work of a single artist, Moshood Olusomo Bamigboye.
Who?
No worries if you don't know the name. Not knowing the names of African artists, even the assumption that they didn't have or use names, has been a Western tradition, at least till the recent sweep of contemporary artists from Africa onto the global auction stage."
Read more of the NYTimes review here.
The exhibition will run from September 9, 2022 to January 8, 2023 at Yale University Art Gallery.
"Bámigbóyè: A Master Sculptor of the Yorùbá Tradition is the first exhibition dedicated to the workshop of the Nigerian artist Moshood Olúṣọmọ Bámigbóyè (ca. 1885–1975). Part of a generation of Yorùbá woodcarvers with flourishing workshops in southwestern Nigeria, Bámigbóyè was highly regarded for the masks that he made in the 1920s and 1930s for ceremonies called Ẹpa. Today, these masks are considered some of the most spectacular and complex works of Yorùbá art ever created." (Read More)