Explore the Collection
Voania was the chief (mfumu ma kanda) of Muba, a village on the Atlantic coast in present-day Democratic Republic of the Congo. He specialized in figurative pottery, usually positioning one or two finely rendered figures on a bowl. In this example, about eighteen inches tall, a woman with an elaborate crested hairstyle is seated on a European style chair. She tilts her head to one side as if in contemplation and holds a lamellophone (sanza) in both hands.
Voania was said to have had no teacher and to have worked alone, closely guarding his manufacturing techniques even from his own family members, who collected clay for him and would take his works to the market. His ceramics were intended for sale to colonial officials and other foreigners. He was part of a longstanding Kongo tradition in ceramics, many of which drew on European prototypes such as Toby Pitchers, and figurative porcelain figures, such as this Figure of a Flautist, imported into this region of Central Africa for trade and considered as items of prestige.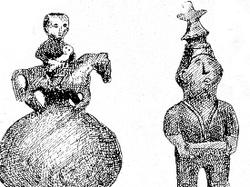 The Ross Archive of African Images includes an image (right) from 1903 that shows the variety of Kongo ceramics at the end of the nineteenth century. 
Meet Your African Art Curator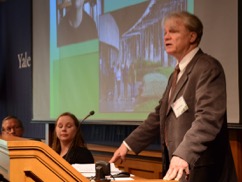 James Green, the Frances and Benjamin Benenson Foundation Assistant Curator of African Art ensures that the Gallery's important collection of African art is a vibrant and engaging resource for all visitors. He is currently at work on the forthcoming exhibition Bámgbóyè: A Master Sculptor of the Yorùbá Tradition, scheduled to open at the Gallery on September 22, 2021. Next spring he will teach "The Artist in African Art," an undergrad seminar at Yale that will highlight the works of named artists in the Gallery's permanent collection.
Read about James' involvement with the Yale Africa Initiative, a university-wide effort to prioritize and expand Yale's commitment to Africa, in the Yale News, January 15, 2020: "Yale President Peter Salovey visits Nigeria to expand partnerships."
JAMES RECOMMENDS:Cynthia Becker, "Amazigh Woven Textiles at Yale: Visual Expressions of Berber Women's Creativity and Inventiveness." Yale University Art Gallery Bulletin, 2017.
Dissembling Earth in Yorùbá Visual Culture
In this Gallery lecture from February 22, 2016, David T. Doris, M.A. 1996, M.Phil. 1998, Ph.D. 2002, Associate Professor of the History of Art at the University of Michigan, in Ann Arbor, shines a new light on power and visuality in Yorùbá culture, based in West Africa.
Wallpaper*, March 17, 2020: "A virtual tour of Houston FotoFest: 'Africa is everywhere'" 
 
DOCUMENT, March 17, 2020: "'Young, Gifted and Black' spotlights the multitude of black artists defining the contemporary art scene"