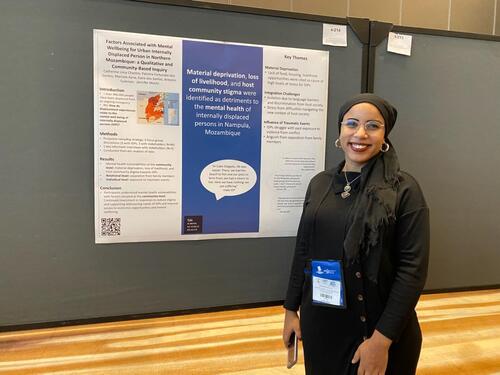 Catherine Chantre, a 2nd year PhD student in the department of Epidemiology of Microbial Diseases at the Yale School of Public Health, received the Council on African Studies' Graduate Student Conference Research Travel Award to present her summer research at the International Society for Traumatic Stress Studies (ISTSS) conference this past November. Catherine's research investigated the impact of displacement from the ongoing conflict in northern Mozambique on young internally displaced adults' vulnerability to HIV. With the support of the Council's Lindsay Fellowship for Research in Africa, Catherine spent two and a half months in Mozambique completing fieldwork and presented the initial results of her research at the 38th annual ISTSS conference in Atlanta.
Catherine presented two posters, one detailing the results of her study exploring HIV vulnerability and a second poster detailing mental health vulnerabilities for internally displaced persons. Her work was one of the few studies documenting the impacts of displacement on populations in the African continent, with other studies focusing on displaced persons in the Global North. Study results demonstrate that young women, internally displaced in Mozambique, are especially vulnerable to HIV due to challenges stemming from material deprivation, integration issues, and changing norms around sex. Mental health vulnerabilities were linked to exposure to traumatic events and were similarly compounded by issues tied to material deprivation and integration challenges. 
Catherine plans to extend on this work through her dissertation by developing research questions that further elucidate the mechanism between trauma and HIV vulnerability and exploring strategies to mitigate this vulnerability through community-based approaches.