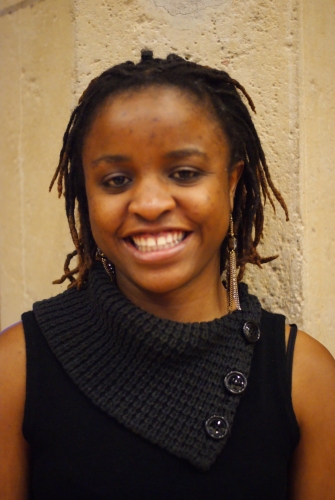 Reverend Loretta Opara set the mood for the panel on "Reviving the Voice and Rights of African Children in Literature" by charming the ten delegates present into singing along to an Igbo folk song during her presentation in the basement of 220 York Street. Mothers sing folk songs as lullabies, Rev. Opara of Alvan Ikoku Federal College of Education explained, something which is instrumental in learning language, rhythm and music.
The panel was chaired by Winston Salem State University's Rose A. Sackeyfio, who also presented her work entitled "Coming of Age to War: The Making of a Child Soldier in Beasts of No Nation by Uzodinma Iweala."
While Reverend Opara's work was concerned with the importance of folk tales in shaping children and pushed for the infusion of African folktales into contemporary children's literature, Sackeyfio's highlighted what she called the "hybrid space of childhood through the binaries of child and soldier": to be victim and victimiser, to be violated and a violating figure.
Both of the presenters' work referenced the innocence of childhood. Rev. Opara tells an entrancing story about a child who asks his family, "What can I do that is beyond your knowledge?" They dismiss him, insisting that of course they knew more than him. He speaks to Chi (God) who gives him the sun, moon and stars. The family is aghast when they see him. Rev. Opara points out that this story is a great way for children to learn to set a goal and pursue it, know their human rights, be strong willed and be brave.
To know his human rights might have been helpful for Agu, the protagonist in Beasts of No Nation, who is forced to become a child soldier. Sackeyfio points out that for child soldiers, the field becomes a playground, a space which is supposed to be a crucible of innocence, but instead is a place where child soldiers mimic video games such as Rambo, Terminator, Commando, and Missing in Action.
The audience grappled with the issue of the white savior complex introduced at the end of Beasts of No Nation, a sentiment that is reflected in popular discourse about the book. They also challenged themselves to figure out ways to ensure folk tales remain accessible and relevant in a highly digitized era.
The issue that was not in debate was Sackeyfio's statement that: "Centering the African child is timely and appropriate because throughout the world children are the future."
---
Written by Ivy Nyayieka, who just graduated in May with the Yale College Class of 2017 as a double major in English and African Studies.